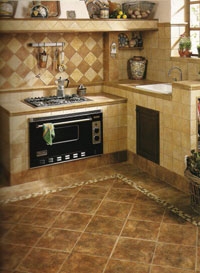 Bring your Tile & Grout back to its original color!
Are you looking for an exceptional tile & grout cleaning experience?  Would you like to make your tile & grout look like new again?  In most cases we do just that!  We are so confident we can do that for you too that we give you a challenge:  Pick the worst part of you home or commercial business with dirty tile & grout.  (Often times it is in the kitchen area).  We will start there.  If you are not happy with the results you are seeing, we will pack our bags and you owe nothing for the tile and grout cleaning.  Check out some of our before and after pictures (click on the menu tabs on the left for before and after pictures) and you can see how dirt and grime just wash away in our cleaning process.
One method we use to clean ceramic tile & grout is with the Rotovac 360 for cleaning porcelain/ceramic tile & grout.  It uses a combination of rotary nylon cleaning brush bristles, spray jets AND vacuum slots to thoroughly clean tile and grout. The spray jets can use heated or unheated water at high pressure while the nylon brush bristles scrub the floor surface, the vacuum slots then suck up the water, grime and grit and results in clean, sparkling tile and brilliant grout once again!  Another method we use is with a device that  is specifically designed to be low profile to get under kitchen cupboards and hard to get places.  It does an amazing job!  We also have a device that is used specifically to get corners and edges (we have heard that many of our competitors skip this step).
And don't forget the best part. Once we're done making your tile and grout sparkling clean, we can use the same machine with a different cleaning head to clean your carpets in no time! We are proud to offer carpet and hard floor surface services. Call us today or fill out our Free Estimate Request to get a quote. We look forward to providing you with excellent tile & grout cleaning, carpet cleaning and floor cleaning services!  Make us YOUR professional tile and grout cleaner.
Ellen Fagan
Owner- Steam Clean My Carpet & Tile
We often get clients that notice they need their tile and grout cleaned because the kitchen is really showing dirt in grout lines.  We recently cleaned for a client and she was amazed by the results.  Her testimonial follows below the video.
I just wanted to let you know how pleased I am with the cleaning of our carpets and tile, It looks brand new!!!! You have my permission to use pictures and video to show how great your system works and you have gained a loyal customer for life.
 Kellie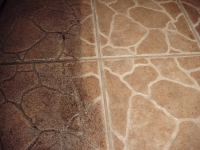 Before                     After
Update-Note

: All the before and after pictures on this site are actual jobs we performed!!  Others apparently liked our tile/grout cleaning picture above so much that they have copied it to their sites

without permission

.  Some here in the Central Florida area and many in other states as well as other countries.  See this link for image search  of "matching images" across the world:  CLICK HERE   After clicking the link, just scroll down through all the pages and you will find over 100 sites with this image copied to their sites.  You can see me actually cleaning this tile & grout in the video below.  🙂  Ellen
We clean for this Central Florida restaurant usually quarterly as they have lots of traffic.  Do you see the difference?  They are always really, really happy with the results! 🙂
Are you curious what your tile and grout looks like under the dirt covering it?
We challenge you to pick the worst area of porcelain or ceramic tile and grout to clean, usually the kitchen.  We will start cleaning it and if you are not happy with the results, we will pack our bags and you owe nothing for the tile & grout cleaning.  That is the confidence we have in how well your tile & grout will come clean and in most cases, look like new aga
in!
We Use The Best Tile & Grout Cleaners that we have found!
Just had my rugs and tile done. Wow! I can't believe they are like new. Had the rugs cleaned in November by another nationally known firm, now they are really clean. Not only are we very pleased with the job, but they were polite, courtious, and anxious to please. They really do a great job I definately will use again.

Don- Deltona, FL
Hi Ellen.

I wanted to thank you again for the recent cleaning on my unit over at Harbour Village.   When I bought my condo 9 years ago, I had the entire unit tiled.  However, with 2 dogs and living near the beach dragging sand inside, the grout and tile looked very dirty.  I never imagined that I could get the tile and grout cleaned much less than have it look brand new.  The tile floors and grout lines look fantastic just like it did when I moved 9 years ago.  I would highly recommend your company to everyone.  Thank you again for your outstanding service!

Keith

Harbour Village- Ponce Inlet, Fl
"Great Results- 5 Stars

Ellen and Bruce came to our home to clean the carpet in 4 rooms and the tile in the master bath. They were prompt, courteous, and efficient. Our carpets and tile look new, for a very reasonable price. When we need more carpet or furniture cleaning, we will most certainly choose Steam Clean My Carpet & Tile and the Fagans.  We highly recommend their business."

Ellen B.- De Leon Springs,FL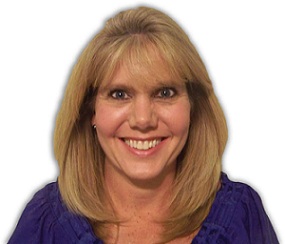 Ellen Fagan, Owner