We often get clients that notice they need their tile and grout cleaned because the kitchen is really showing dirt in grout lines.  We recently cleaned kitchen tile and grout for a client and she was amazed by the results.  Here is the tile cleaning video.  Her testimonial follows below the video.
I just wanted to let you know how pleased I am with the cleaning of our carpets and tile, It looks brand new!!!! You have my permission to use pictures and video to show how great your system works and you have gained a loyal customer for life.
 Kellie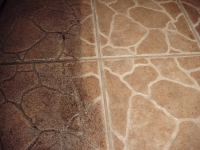 Before                     After
Update-Note

: All the before and after pictures on this site are actual jobs we performed!!  Others apparently liked our tile/grout cleaning picture above so much that they have copied it to their sites

without permission

.  Some here in the Central Florida area and many in other states as well as other countries.  See this link for image search  of "matching images" across the world:  CLICK HERE   After clicking the link, just scroll down through all the pages and you will find over 100 sites with this image copied to their sites.  You can see me actually cleaning this tile & grout in the video below. 

  Ellen
We clean for this Central Florida restaurant usually quarterly as they have lots of traffic.  Do you see the difference?  They are always really, really happy with the results!

Are you curious what your tile and grout looks like under the dirt covering it?
We challenge you to pick the worst area of porcelain or ceramic tile and grout to clean, usually the kitchen.  We will start cleaning it and if you are not happy with the results, we will pack our bags and you owe nothing for the tile & grout cleaning.  That is the confidence we have in how well your tile & grout will come clean and in most cases, look like new aga
in!